General Site Info
Do audience members have to sign in?
---
Anyone wishing to watch will require a ticket to view the live session. Certain features are limited to members of the site, such as viewing and posting comments. You can sign up free as an audience member to access these features.
---
Why do I have to sign up to use certain features?
---
Keeping features limited to memberships allows us to manage the platform effectively and maintain a safe community for all site users as much as possible.
---
---
Artists
How can I perform in a session?
---
Each session will begin with a fixed set list of artists to perform. After this time, the session will end with 30-60 minutes available for viewers to join live and perform if they wish. To perform a slot in the fixed set list, you will need to head to the artist signup page to register yourself and request a session slot for any of our upcoming sessions. We will then be in touch and we may ask you for a short clip of you playing in order to assess where you might fit in one of our sessions. The fixed set list will be followed by a truer rendition of the open mic, allowing any site user to perform with us live. You can request to perform in this section by sending us a message via the "join the setlist" tab - this will be visible only during a live session.
---
How long will I be performing in the session?
---
Perfomer slots may vary but would usually be 15-20 minutes long. If you require a shorter or longer time slot, let us know in advance or at the time of booking and we will see what we can do. Alternatively, you may be able to book another slot on the same evening provided there is space available.
---
Are there any system requirements to be able to take part?
---
Minimum requirements are a reliable internet connection (preferably fibre broadband), a mic and camera (built-in are fine). The better quality the equipment, mic and camera, and higher broadband specification the better quality the streaming will be. A test of your set up will be required prior to your performance, this will be arranged after you have sign up for the set list.
---
Can I perform more than once in a session?
---
Yes. You may request to book more than one time slot. However, this will be subject to availability.
---
Can I join the set list after the session has started?
---
Yes. There is a 'join' button on the live page that allows you to request a time slot for the live session.
---
Do I have to sign in each time to be able to perform in each session?
---
Yes.
---
Is the performance recorded?
---
All performances are recorded and held and can only be accessed by The Remote Music Project. Some material may be used for promotions or added to site features. You can request a copy of your set by emailing us at performer_management@theremotemusicproject.co.uk. Note this copy will be strictly for your own personal use and is not to be distributed to others or posted onto other websites or social media.
---
I wasn't happy with my session, who do I contact?
---
Should you experience any problems with your set please let us know and we will help to resolve any issues you may have had. Email performer_management@theremotemusicproject.co.uk.
---
Why did my set end early?
---
Reason for a set to end early:
The internet connection was lost. If this is the case you will receive an email allowing you to start a new set either within the same session if there are any free slots or for the next available time slot for a session at a later date.
The content of your performance was in violation of our code of conduct. You will receive an email regarding this matter in due course.
---
Can I send a video performance to be played during my set?
---
Gernally, no. This is a live streaming platform and not intended for pre-recorded material. However, we may ask those perfoming in our featured setlist to send a video performance prior to the session as a backup. We do this to make sure that your audience can still see you perform even if our much loved technology isn't well behaved!
---
Am I able to cancel my booking for a set?
---
Yes. If you wish to cancel or re-book your time slot please email performer_management@theremotemusicproject.co.uk. Please try to inform us as soon as possible to allow us time to inform others of any changes to set times.
---
What happens if I am late for my allocated time slot?
---
A holding screen will be displayed on the live page for no longer than 5 minutes. If you can join us during this time you will still be able to perform, however, your set may be shortened. Otherwise you will need to re-book a set slot for either later in the session, if there are any available, or for another session at a later date.
---
How do I set up to start streaming?
---
Joining the stream is pretty simple! Once you have been allocated a slot, we will send you an email with a link to join the green room. When you arrive at the green room webpage, use the dropdown selections to set up your chosen microphone, camera and speakers. Once you've done all that, click the button to join the room and you are ready to get set up!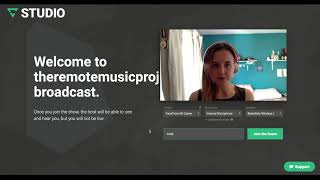 ---
---
Payments
What happens to the money I pay/donate?
---
The main aim of this platform is to provide support to charities. However, it is inevitable that running such a platform does incur costs. In order to keep providing this platform for artists and viewers, a small amount of each payment is absorbed into these costs. This amount pertains solely to said running costs. Once these costs have been met, the remaining value (profit) is donated to our selected charity after the final session of that month.
---
Why do you change the charity each month?
---
Upon setting up The Remote Music Project, it was clear that we wanted to support as many people as possible other than the artists that we provide a platform to. By rotating our supported charity each month, we are able to give you the opportunity to support a wide range of charities that will have a positive impact on our community and our planet.
---
Do I get to watch the session for free if I am an artist?
---
Any artists that perform a session will have access to watch that session. You will need to purchase a ticket if you would like to watch a session that you are not participating in. This is so that we can make the platform as fair to our viewers as possible and it also helps us to support the charities we have committed to each month.
---
Can I still donate if I am a performing artist?
---
Yes! We are grateful to all donations that are given to support our selected charities and encourage donations from both artists and viewers. You will be given information on how to donate as an artist in your artist information pack.
---
Can you only watch if you have purchased a ticket?
---
Yes. Only ticket holders will be allowed to view a session. One ticket per audience member.
---
Can I get a refund for my ticket?
---
Yes. You may request a fund for your ticket, or re-book your ticket for later date. Refunds for charity donations will come under the Charity Act 2011. Please email us at info@theremotemusicproject.co.uk for further information.
---
---
Age Restrictions
Can I perform if I am under 16?
---
Yes. You are able to perform in a session, but we will require parental/guardian/carer consent. This will be requested when you have made a booking.
---
My child/child in my care wants to perform a set, is this possible?
---
Yes. They can book to perform a set but we will require your consent in order for them to be able perform. You will be sent an email with details about how to do this.
---
---
Business + Partnerships
For any enquires regarding the business, including potential sponsors, please email us here:
admin@theremotemusicproject.co.uk
​
Artist Enquiries
To get in touch please email us here:
Whether you have an itching question that's keeping you up at night or an inspiring urge to get involved in what we're doing, the answers aren't far from here.
​
Simply fill out the contact form and we will get back to you as soon as possible.
Business + Partnerships
For any enquires regarding the business, including potential sponsors, please email us here:
admin@theremotemusicproject.co.uk
​
Artist Enquiries
To get in touch please email us here:
Business + Partnerships
For any enquires regarding the business, including potential sponsors, please email us here:
admin@theremotemusicproject.co.uk
​
Artist Enquiries
To get in touch please email us here: